The Governess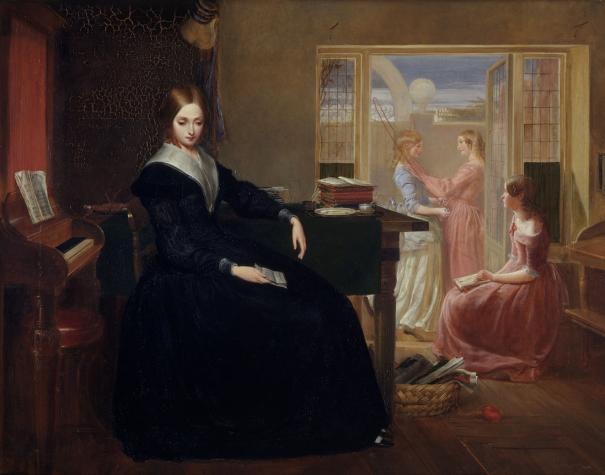 Collection:
Victoria & Albert Museum, London
Documentation:
Marion Amies notes the popularity of the governess theme in nineteenth-century British literature:
"The nineteenth-century English governess novel could, in the hands of such authors as the Brontës, provide a vehicle to expose the plight of the governess. The governess proved a popular heroine although later novelists, lacking the Brontës' reforming zeal, often produced stereotypical characterizations. The most common stereotype was the pathetic, downtrodden governess whose portrayal was consistent with the notion that she was outside the ideal of leisured womanhood."
Marion Amies, "The Victorian Governess and Colonial Ideals of Womanhood," Victorian Studies, vol. 31, no. 4 (Summer 1988): 538.
Similar Subjects by Other Artists:
Jean-Siméon Chardin, The Governess, 1739 (National Gallery of Canada, Ottawa)
Rebecca Solomon, The Governess, 1854 RA exhibition
Emily Mary Osborn, The Governess, 1860 (Yale Center for British Art, New Haven)
Vasily Perov, The Governess's Arrival, 1866 (Tretyakov Gallery, Moscow)
Emily Shanks, Employing a Governess, c. 1910 (The Tyumen Region Museum of Fine Arts, Tyumen, Russia)