Chirk Aqueduct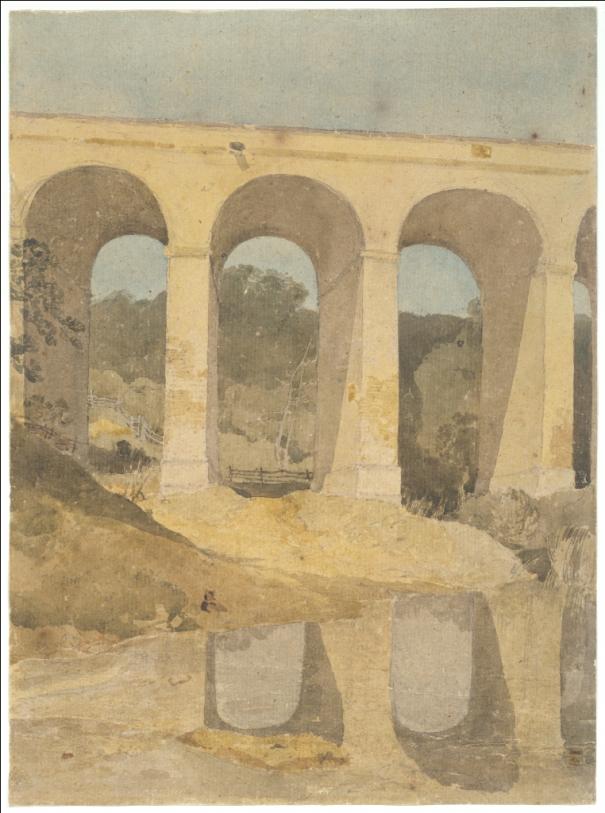 Collection:
Victoria & Albert Museum, London
Documentation:
Sydney Kitson notes the significance of Cotman's Wales expedition for his artistic development and the approximate date of the artist's first sketches of Chirk Aqueduct:
"Returning [to England from Wales] on July 30, through the Pass of Nant Frrancon, they [Cotman and ] stopped again at Llyn Ogwen to make further sketches. Thenceforward there is no definite evidence of their route, but it appears that they returned to England by way of Llangollen, where Cotman saw with delight the Chirk Aqueduct, the recently completed work of Telford, which crossed the marshy valley in a succession of arches. From his sketches of this work he made, some two years afterwards, two distinguished drawings.
This Welsh tour of 1802, much of it spent in the surroundings of Snowdon, with its austere scenery and lonely mountain lakes, was a turning point in Cotman's artistic development. On his first visit to Wales two years earlier he was too young to take full advantage of what he saw. Now, however, at the age of twenty he was passing through artistic adolescence to full artistic manhood."
Sydney D. Kitson, The Life of John Sell Cotman. (London: Faber and Faber, n.d.), 44.