Condemned Cell II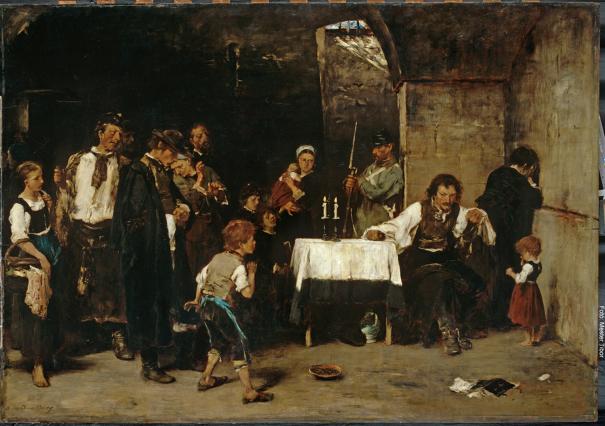 Collection:
Hungarian National Gallery, Budapest
Documentation:
Contemporary art critic John Tait admired the realism of Munkacsy's condemned prisoner painting:
"In [The Condemned Cell] the artist introduced the spectator into the cell of a condemned man on the eve of his expiation. The Hungarian custom permits the exhibition, in order to allow friends to take a final farewell of the criminal, and those indifferent to his fate to receive warning from it; and before the picture one becomes an involuntary participant in the scene, and identifies himself with the one class or the other. It has all the reality of a death-bed and the pathos of a requiem, and, shuddering, one asks the question [ ] Schiller put into the mouth of Cassandra,* -- 'Should the veil be lifted when the nearby horror threatens?'"
*"Cassandra" is a ballad written by Johann Friedrich von Schiller in 1802.
John R. Tait, "Michael Munkacsy. Second and Concluding Article," The American Art Review, vol. 2, no. 7 (May 1881): 14.
Similar Subjects by Other Artists:
Theodor Weller, Prison Visit, 1835 (Alte Nationalgalerie, Munich)
Carl Henrik D'Unker, Arrest Order, 1857 (Alte Nationalgalerie, Berlin)
About the Artist
Born: Munkács (now Mukachevo, Ukraine), 20 February 1844
Died: Endenich, Germany, 1 May 1900
Nationality: Hungarian