View of the Sea: The Brig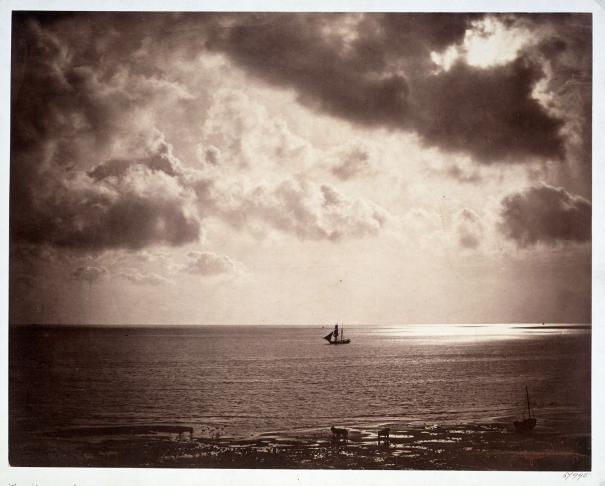 Collection:
Victoria & Albert Museum, London
Documentation:
An anonymous critic expressed amazement when he saw Le Gray's Sea and Sky at a 1857 exhibition in London:
"'Among the landscapes we stop with astonishment before M. Le Gray's Sea and Sky, the most successful seizure of water and cloud yet attempted. The effect is the simplest conceivable. There is a plain unbroken prairie of open sea, lined and rippled with myriad smiling trails of minute undulations, dark and sonorous and profoundly calm, over the dead below, smooth as a tombstone. Overhead is a roll and swell of semi-transparent clouds, heaving and breaking and going they know not whither. From the midst of this 'pother' of dimness falls a gush of liquid light, flush and full on the sea, where it leaves a glow of glory. The delight and surprise of this descent is a new pleasure. It is as when Jacob's ladder of angels was but just withdrawn, and the radiance above and below, where it rested on earth and sky, had not yet melted out'."
The Journal of the Photographic Society (21 September 1855) Cited in Mark Haworth-Booth, "The Dawning of an Age. Chauncy Hare Townshend: Eyewitness," The Golden Age of British Photography 1839-1900 (London: Victoria and Albert Museum, 1984), 17.