You are here:
Home
› Spring
Spring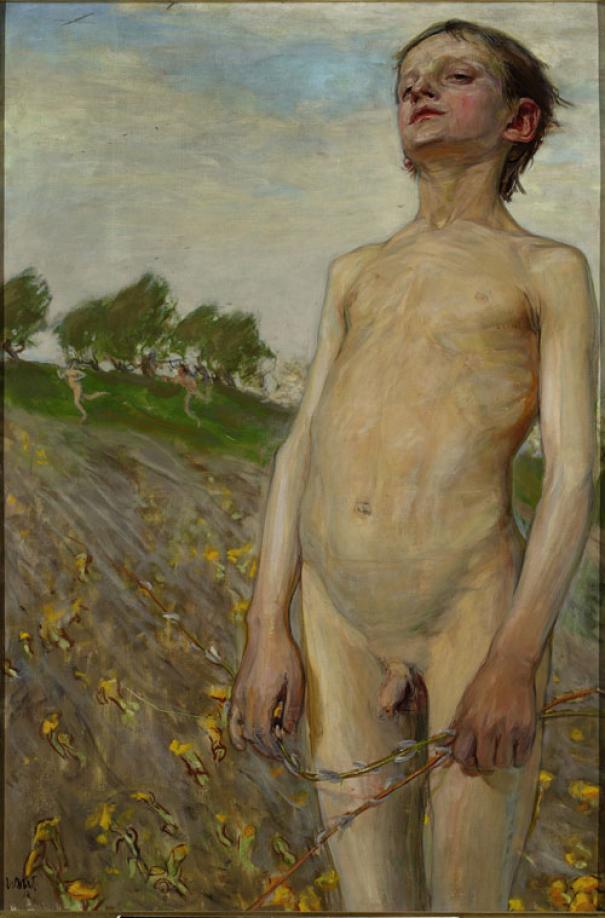 Collection:
National Museum in Warsaw
Documentation:
A contemporary critic described his experience upon viewing this painting:
"It is a weird moment in nature, when everything whispering hatches and moves toward the sun, when, in a billionth of a second, there arrives insanity, madness, some despair, tough and with no exit, above which the sky lightened with a prinstine and clear gauze, shivering with dew and freshness. Suddenly, all that hangs now in the skies is going to collapse, to sink into the thicket of despair. This is the insanity of Spring. Not a delirium of a waking child of nature, who bends in the painting as the trees do, but the insanity of nature that, for a millisecond, is congealed in her child, only to then rush around and create something new. And, with the expansive landscape, the immensity of the setting is condensed, as if in an initial rush to escape itself. This is the way Weiss paints Spring: one moment is captured from its progress in time and was transformed into a human being. The painting looks as follows: landscape in the background, above it - clear and vivid sky, and usurping the foreground, a little to the side, a nude young boy, whose head gazes upward. Far behind him, several trees, oddly twisted and in a broken line, mark the horizon. The boy and trees bend in the same way, in the same rhythmic bend as if he had already left the embrace of nature, keeping the shape of nature's bosom. This boy is still entirely part of nature, as boys are at his age, when they dive and appear again on the surface: water creatures united with their element...This is an unaware, insane, inescapable life - it represents an ideal beyond which lies separate life with an exit, and beyond that, nothingness."
Stanisław Lack, "Wojciech Weiss," Żzcie, no. 1 (1900), cited in W. Jusczak, Malarstwo polskiego modernizmu (Gdansk: Empik), p. 567. Translation to English by Wojtek Kordyzon.
Similar Subjects by Other Artists
Akseli Gallen-Kallela, On the Way to Tuonela, 1888-94 (Gösta Serlachius Art Foundation, Helsinki)
Akseli Gallen-Kallela, Ad Astra, 1894 (Signe and Ane Gyllenberg Foundation, Helsinki)
Hugo Höppner, Prayer to Light, 1894 (Deutsches Historisches Museum, Berlin)
Károly Lotz, Spring (Portrait of Ilona K. Lippich), 1894 (Hungarian National Gallery,Budapest)
About the Artist
Born: Leorda, near Zakopane, 4 May 1875
Died: Krakow, 6 December 1950
Nationality: Polish